Eric Clapton's 1964 Gibson Firebird I Guitar
An impressive array of rare Eric Clapton Firebird photos, live videos and soundclips in which Eric is playing the newly acquired 1964 Gibson Firebird I guitar he purchased in April 1968. He used the guitar with Cream on various dates up until their final show in November 1968 at Royal Albert Hall. He also apparently used it in a few public appearances with Blind Faith in 1969, 1970 and 1971. The photos are mostly during mid/late 1968 during his tenure with the best band ever. Included are various shots of same guit different eras, different hairstyles and different guits. Let this be a tribute not just to the Clap, nor the great great Gibson Firebird or firebird pickups but to all those adventurous and subsequently endowed with at least enough imagination to be more than just another Les Paul player.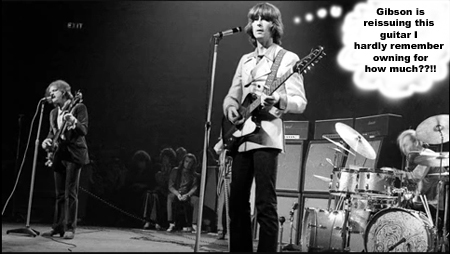 Cream live in San Diego 10-20-1968

SOUND CLIPS
One of the things that I've always found entertaining is how everyone talks about how amazing Firebird neck pickups sound (they do), and how the bridge is "shrill", "brittle", "thin", "anemic", etc. but then those individuals all will tell you in the same sentence how bad they want a Firebird I. And how many times have you heard some seller describe how their Firebird gets that "Cream Clapton tone", when aside from "White Room" at Royal Albert Hall in 1968 (which for reasons stated below in the videos section is by no means what I would consider a solid reference point for the tone of vintage Gibson Firebirds) most people, no doubt including those sellers, have no real idea what Eric's Firebird sounded like.
What Cream tracks did Eric Clapton actually play the Firebird on?
Clapton acquired the guitar in April 1968, so obviously nothing made before that.
Certain live tracks on the "Farewell" recording (Sittin' on top of the World and Politician) have the strong scent of the unmistakeable Firebird stamp.
There is a full length bootleg live in Oakland, Alameda County 1968 is almost certainly 100% Firebird. For any of you still on the fence about this one I think it would be safe to say that "it was a LOUD one watt".
The show at the Memorial Auditorium in Dallas, Texas on October 25th, 1968 has those unique Firebird characteristics written all over it on more than a few tracks.
Madison Square Garden 11-2-68 judging from sound of this show and the fact that of the many many photos of Cream on stage from this show Eric is on his FB there is a good chance that this entire show is the FB.
The Philadelphia Spectrum on 11-1-68 Eric references in the quote a little farther down on this page. I have to admit I'd give pretty much anything to hear a recording of this show but from what I understand, no recordings of it exist. Editors note: this was the night before the MSG show mentioned above.
Obviously there are more but those are a few that come to mind which we have recordings of. Regardless, here are some clips which will no doubt school the multitude of Les Paul adhering robots who imagining what it must be like to have an original thought accidentally found their way here:
Cream – Politician live 1968 from the Farewell Tour recording.
Cream – Sittin' on top of the world live 1968 from the Farewell Tour recording.
Cream – I'm So Glad live 1968 live Alameda County Coliseum, Oakland CA, Nov 4th 1968.
Cream – Spoonful live Alameda County Coliseum, Oakland CA, Nov 4th 1968.
Cream – Sittin' on top of the world live at the Memorial Auditorium in Dallas, Texas on October 25th, 1968.
Cream – I'm so glad live at the Memorial Auditorium in Dallas, Texas on October 25th, 1968. Great playing here, and towards the end there is a break where Jack and Ginger play a duet mostly likely because Eric's amp fails.
By the way, anyone who says that Cream reached their creative peak in 67 and had nothing left after that has to be out of their mind. Eric's rhythmic sense, phrasing and overall tastefulness during this time period just got better and better. Too many people associate "gain" with good and attempt to cover up mediocre playing with it. While Eric sounded badder than bad through a cranked up Marshall he never relied on it to make great music. 'Nuff said.


CLAPTON FIREBIRD VIDEOS
Cream Live 1968 Farewell Tour Royal Albert Hall, Clapton on the Firebird "White Room".
Here are a few videos of Eric playing his Firebird. Everybody knows how frustratingly obnoxious the footage for this legendary Royal Albert Hall show is. They had two cameramen with top notch equipment filming an entire show of one of the greatest bands ever and 95% of the footage is a close up of Jack Bruce's face. The footage for the songs doesn't even match the music for large portions of the movie. I usually just close my eyes and listen because the video is too distracting and never really lines up with the music. Thought I would include it nonetheless since it is one of the rare bits of footage of Cream where Eric is on the Firebird.
I will say Eric's tone here (the whole RAH show actually) is a unique one for whatever reason, and in this clip although it is a fantastic and blistering tone it is not what I would consider normal Firebird through cranked Marshall tone. So just a heads up for anyone who goes and buys a Firebird, 100 watt Marshall plexi and wah hoping to sound like this, you will sound great but probably not like what Eric sounds like in this video.
ERIC CLAPTON on the Firebird for a "Supershow" in 1969 which included lots of folks. The show was filmed over two days at an unused factory in Staines, west of London. Here Eric is with Roland Kirk, Dick Heckstall-Smith, Jack Bruce, Jon Hiseman, Ron Burton, Vernon Martin performing a number called "Slate 27".
Cream in 1968 on the Glen Campbell show performing Sunshine of your love.
A lot of people are confused about why the group doesn't sound quite like they normally do here and it is fairly obvious to anyone who has played a Firebird through a Marshall stack that the main reason is because Eric's amp (singular if you notice) is not on 10 like it usually is. Eric relied on the tube saturated overdrive you get when you turn amps like these ALL the way up. This phenomenon more than likely having to with some fascist on the studio set of the Glen Campbell show who forced Eric and Jack to turn down (these amps are pretty loud after all I guess.)
Nobody plays loud today like these guys did back then, these days everyone is trying to sound like Cream and Jimi at whisper quiet levels using all sorts of ridiculous methods: 1 watt gay "boutique" amps (isn't a boutique a place where a woman gets her hair done?), germanium chip fuzz pedals, power scaling, variacs, attenuators, snake oil tone caps, high output pickups, and usually all at the same time while playing a Les Paul and making mediocre music.
Back to Eric, in this video with his signature sound fascistly castrated he is forced to work with a much much cleaner tone than he probably preferred around this time. However, Eric being the gifted player that he has always been goes on to play a bitchin' and tasty "clean" solo which is way different than what he usually does when he has his usual dimed double plexi full stack sustain under him. So many guitarists use gain to cover up for mediocre playing and as soon as you take away their gain/pedals/whatnot they sound awful and start looking for excuses, and with Eric that is definitely NOT the case, he was a killer player who just preferred the wound up roar of Marshall's during this general time period, and thankfully so, he sounded badder than bad through them.
The only guy I know of these days who gets close to Clapton's Cream Firebird tone and even takes it further is Daniel Shams of Heliotricity when he plugs his old Firebird into his dimed dual JTM45/100 full stacks. If you are interested in Firebirds and/or Firebird pickups you MIGHT want to tune in.
Cream live at Madison Square Garden 11-2-68.
While unfortunately no actual video from this show exists, this is nonetheless a nice vid with a montage of images all from the show. Apparently there was some type of rotating stage on this gig, which is why the audio is a little unusual in places. The groups playing on this gig is phenomenal by the way. It is also coincidentally the night following the Philly Spectrum gig Eric talked about being one of his best shows ever.
There are a few photos from this show backstage of Eric carrying his FB in one hand and his LP in the other as he is likely on the way out to the stage, and then there are a few photos (at 45:49 in the video, 1:04:30, 1:08:18…) where you can see his LP is behind him leaning against what looks to be a backup Marshall head on its side, but there are no photos of him on stage playing the LP. My suspicion based on the sound of it as well as the many photos that were taken on this night is that this entire show is Eric on his FB.
Cream live at Oakdale Music Theater, Wallingford CT 6-15-68
And then there is this one. The infamous "Firebird" album. So you've all made it this far, probably hoping I'll give you the answers so you don't have to think for yourself. If that is you, then you should go back to mundane pentatonic noodlings on your overpriced and overhyped R9. For the rest of you, if you listen to one thing on this album, make it I'm so Glad (11:25 mark), Crossroads (24:45 seconds mark, note: better than the Wheels of Fire version??), and Spoonful (at the 40m mark) because it's a smokin' jam. Eric's rhythmic sense, phrasing and the tastefulness of his playing on this one is off the charts. And again for any of you who are drinking the Kool-Aid on Grande Ballroom 67 being Cream's peak, you might want to listen again to some of what these guys were doing in mid/late 68.
Here is another clip of them at the Dallas show which was no doubt Eric on the Firebird. Cream – Sunshine of your love live at the Memorial Auditorium in Dallas, Texas on October 25th, 1968. Audio is a little rough in places, but still another absolutely phenomenal take from a great show by one of the best bands ever. I think it is safe to say that it was 6 well spent dollars(!) by any lucky Texans fortunate enough to have been in attendance that evening.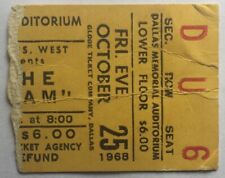 Ticket stub from the legendary October 25th, 1968 show Cream played along with other bands in Dallas, Texas.
Clapton Is God
Gibson thanks God every day that somebody took that now famous photo of Clapton in his black jacket with the cigarette holding his Firebird I (on a gig where he played pretty average (for him at least) as you can see in the "slate" video above.) That way they could do a signature reissue of a guitar he played for such a short time in his career most people probably wouldn't have even known and/or would have forgotten if it hadn't been for that photo and of web pages made 50 years later by Firebird fanatics like this.
By the way what happened with the 2019 Firebird I reissues? That cheap headstock and the corny "normal" tuners? Even Epiphone got that right with the Bonamassabird. A firebird without banjo tuners and with any other pickups other than the super sweet firebird mini humbuckers just isn't a reverse firebird anymore, sorry. For the record, Allen Collins was almost, I repeat almost a firebird player. A reverse Firebird with a P90 (a humbucker or anything else for that matter) in the bridge is no longer a reverse Firebird, sorry. Pardon the digression, back to Eric and Cream 1968:
Interesting excerpt from Christopher Hjort's book "Strange Brew: Eric Clapton And The British Blues Boom 1965-1970" entry for November 1st, 1968 (part of which Gibson is including as a selling point for the new "Clapton 1964 Reissue" limited run they are releasing for a ridiculous price (more than you can buy an original for!)
Cream
Spectrum, Philadelphia, PA
Ron Delsner presents Cream; one show, at 8:30 pm. Although the tour has more downs than ups, Clapton will have strong memories of tonight's gig when talking to Phil Sutcliffe nearly 40 years later. "I remember one show at the Philadelphia Spectrum…and I was playing the Gibson Firebird…and it was one of our greatest gigs ever. I was flying; no confusion, no indecision about when to stop, start, come in, go out; I wasn't tired, I seemed to get more elevated through the evening, one of my greatest gigs ever." The view is seconded by Jack Bruce, who later tells Tony Bacon: "The Spectrum is one of the very best gigs in America, if not the best. Philadelphia is a great rock music town. I've played that a few times, and it's always been great. A rocking gig; great audience."
Cream live at Madison Square Garden 11-2-68 (the night following the famous Philadelphia Spectrum concert Eric references in the quote above).
Cream live at the Rhode Island Auditorium 11-4-1968.
Cream live New Haven, CT October 11th, 1968
Cream live at the Grande Ballroom, Detroit June 1968
Cream live at the Grande Ballroom, Detroit June 1968
Cream live at the Grande Ballroom, Detroit June 1968
Eric Clapton's rig during his Cream years. Editors note: the EQ and volume settings shown in this diagram couldn't be more wrong. Eric's sound during this time period largely came from these very unique sounding and to this day unparalleled early 100 watt amps Marshall had just started making at the time (specifically the JTM 45/100 and JTM100 aka black flag) turned all the way up. There is even a term called "British EQ" which Eric was known to have employed on occasions which involved turning all the knobs on the faceplate of the amp up to 10. Eric's tone on the Cream bootleg from the Grande Ballroom in Detroit 1967 (I repeat 1967 by the way, which wouldn't have been the Firebird, just to be clear) has on numerous occasions made me wonder if Eric may have had his EQ that way for that show.
It is a very interesting, bombastic and great sound, I've done it with my old Firebird and JTM 45/100 full stack. If you do this with a Firebird though you may have to roll back the presence just a little because the abundance of highs makes the amp squeal even if your guitar volume is on zero. Highly recommended nonetheless, it is an experience that no gay "boutique" 1/4 watt amp or phony Kemper profile will ever deliver, period.
Clapton Live with Cream, Olympia October 12th, 1968.
Cream live at the Philadelphia Spectrum, 11-1-68.
Clapton at the Eagles Auditorium, Seattle, Wednesday, 5-29-68.
Cream Seattle, WA May 29th 1968
Eric Clapton looking like a dork during his short tenure with Blind Faith
Clapton with Blind Faith, Philadelphia 1969
Blind Faith, July 1969
Eric Clapton and Buddy Guy in 1969
Not Claptons, but still a nice Bird!
Clapton's Explorer and other guitars
Cream, Royal Albert Hall 1968.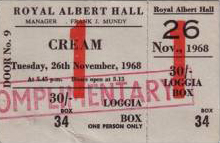 Rumour has it that there is supposedly an un-edited film of the Cream Royal Albert Hall concert in 1968. Because apparently "back in the early seventies the York Theatre, in Montréal, ran a midnight triple feature of Pink Floyd, Cream and Jimi Hendrix and the film ran without the interviews or narration, and the numbers were played in their entirety". Can you imagine? I get chills just thinking about it.
Heliotricity Reviews
"EC was pretty good I guess. At least he played something other than an LP for the majority of his career. If I see another 50+ year old white guy playing pentatonic blues on a freaking LP I think I'll puke…"
–TJ Hookerbreth
9/18/2018